Shola to stick around until 2014
Wednesday, August 10th, 2011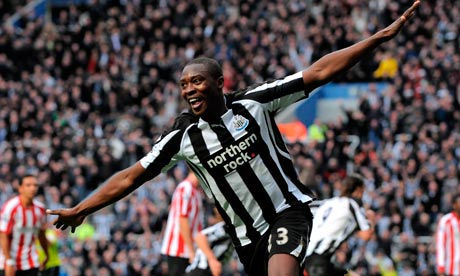 Shola Ameobi has today signed a 2 year contract extension to his current deal at Newcastle. Ameobi had 1 year to run on his old contract and has expressed his happiness (perhaps relief) that he has signed a new deal. The reason why I say relief is because it could have been understandable if the current regime had let him see out his contract seeing as he hasn't exactly been prolific in his 11 year spell as a Toon frontman. In over 300 games he has scored 79 goals and is in actual fact the clubs second highest scorer in Europe behind the one and only Alan Shearer. Despite this question marks have always been raised over his lacksidasical approach to the game and inconssistent performances.
What can't be questioned about Shola is his love for Newcastle United and it seems he would be more than happy to see the rest of his career out on Tyneside. This is what the big man had to say after signing-
"All I've ever wanted is to play for Newcastle United and it is a really happy day for me.
"Newcastle is, and always will be, my club and I'm looking forward immensely to the next three years, beginning this Saturday with the new season opener against Arsenal.
"I would also like to thank the board and the manager for their continued support, which is very much appreciated."
Alan Pardew has also had his say on Shola signing on-
"We are delighted to have confirmed Shola's new contract.
"He has done a terrific job for me since I've been at the club and he is also a great character to have around the place. It is important to have continuity, and keeping Shola on board helps us achieve that aim.
"It is also great for the club that his younger brother Sammy is developing well and we hope he can go on to have a successful career at Newcastle."
Alan Pardew seems to be a real fan of Shola and from the performances that he put last season after Pardew took over I can't see why. In my opinion his best performances last season came under Chris Hughton when he was battling for a first team place, although when the competition for places reduced I feel his performances did too. To get the best out of him I really think you have to make him work for it, like when he came off the bench against Wigan and turned the game around to salvage a draw. If I was Pardew I would have been tempted to make him sweat and make sure he works to get the new contract to get the best out of him. Oh well at least he has signed as on his day he can be great and especially against 5under1and, which is always useful. What is also good is that he can continue to help the younger Ameobi brother Sammy settle in to become a real asset for Newcastle in the coming years!
Comments Welcome.